Click HERE for 4 Simple Steps to Create More Time and Profit On Your Farm Free Training in October
"We just can't keep living this way…"
My client had her farm's "open" hours clearly posted, yet people were dropping in outside of farm store hours, hoping to look around and buy something.
My client was exhausted, frustrated, and falling really behind on her farm.
The powerful and simple solution is in today's Profitable Mindset Podcast Episode.
She wanted to give excellent customer service, and felt she couldn't give up the opportunity to make money!
So she dropped everything and showed them around.
But she realized her days were becoming longer and longer, and she was far less efficient.
She also couldn't risk offending them – what if they didn't come back or told others about the poor service?
This is a common complaint among farmers – once they start a farm, the public tends to think they can just stop in and get shown around.
Or worse, wander around on their own.
It sounds like a gracious gesture – to have an "open door" policy. I love the idea.
But for this farmer, she was now working seven long days every week due to the constant interruptions happening during the week.
She was frustrated, but also guilty and felt obligated to serve people.
It's totally unsustainable – you won't be able to keep this up long-term.
Today I teach you the difference between accommodating customers, giving really good customer service, and having boundaries.
In today's episode you'll learn:
What are boundaries (they're not what you think)
How to serve customers without letting them control our time
Two magic phrases that make people immediately respect you and your time.
You might be like my client, confusing boundaries with customer service.
How do we serve customers on our farm without letting them control our time and how we go about business?
Listen to Episode #184 Today and Create More Time and BETTER Customer Service.
Charlotte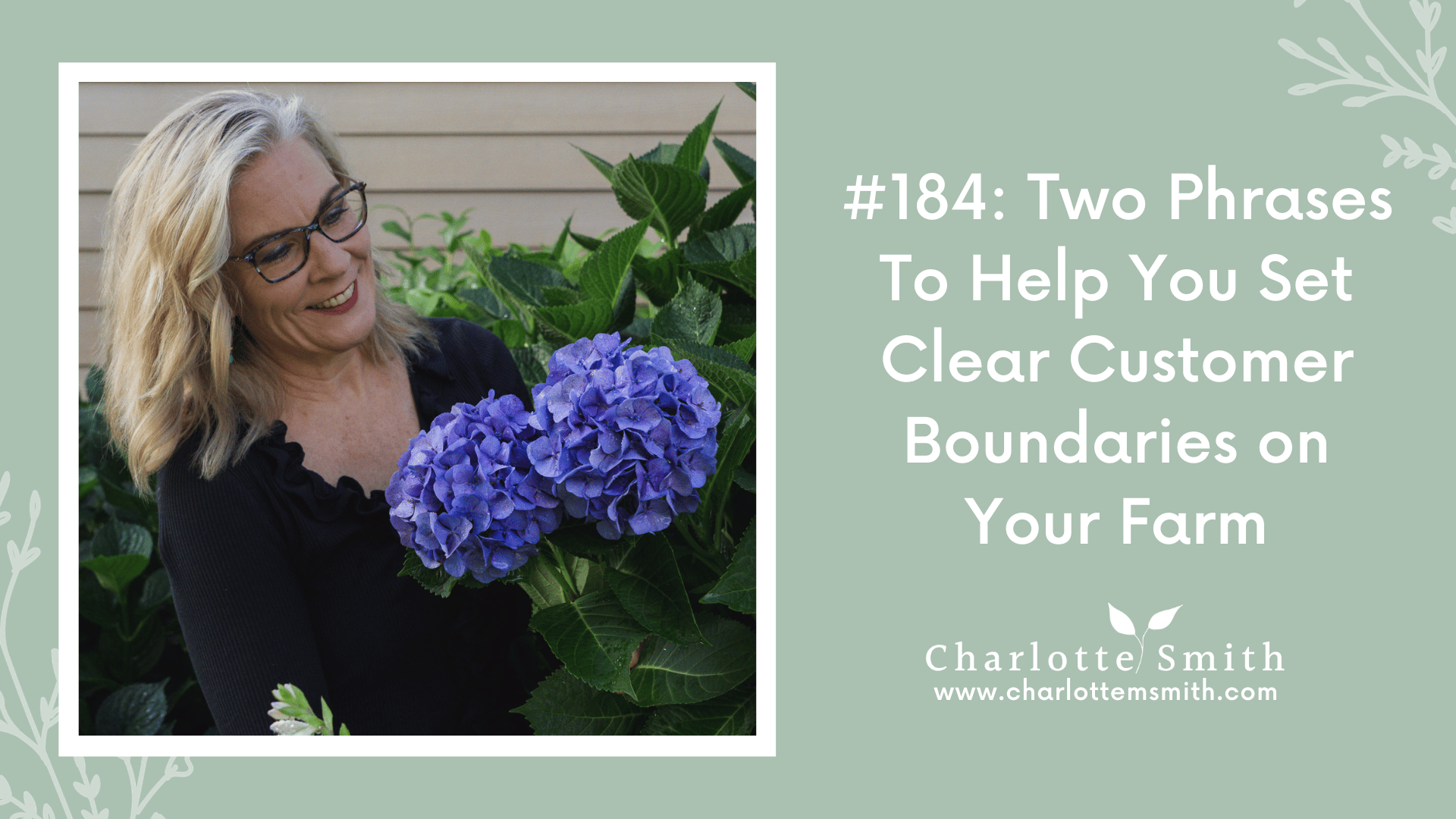 "The biggest change that others (husband mostly) notice in me is that I am "even more calm" than normal (this is funny because I am a pretty darn calm person already). After 3 months of my husband seeing me be more productive through scheduling my time and learning through watching coaching calls, he just recently asked me to teach him how to schedule!
I have been working for a few years to set working hours and work/life boundaries for the farm and have seen huge differences in my quality of life because of those changes. Since starting the program in October, the biggest change I see in myself is that I now take more time to "investigate" thoughts and feelings on a deeper level which brings more compassion and joy to my life.
This year we are expanding our operations and I know that I'll be able to do it successfully with support from the program and this community. Thank you, Charlotte and the 5x team!
It really is amazing, almost every time I think I have a coaching topic for a call, the next call addresses it! It's a powerful community of people."
~ Chloe – 5x Your Farm Sales Member