Most farmers think it's normal to be stressed, overworked, and struggling financially.
This is what they know and see around them, so they accept this is just how it is.
But, do you know that up until the depression, farmers were considered highly esteemed members of society who created lots of wealth with their farms?
Listen now to Learn Why It's So Hard To Make A Living Farming.
They paid for their kids' college. They bought some of the first cars manufactured. They traveled the world.
My great-grandfather owned the largest beef cattle ranch in the the Northwest.
He had 13 different meat markets.
He was a wealthy man. He was highly respected in our community.
But something changed early in the 1900's that created today's environment of farmers in poverty. Some on food stamps and public assistance to continue the family farm.
Once you know the history I share on the podcast today, this perspective shift will help you feel eager to build your own profitable farm.
My clients are creating a new reality where they can have work-life balance and make a good living farming.
Tune in to episode #174 And Learn the First Steps to Building a Profitable Farm.
Charlotte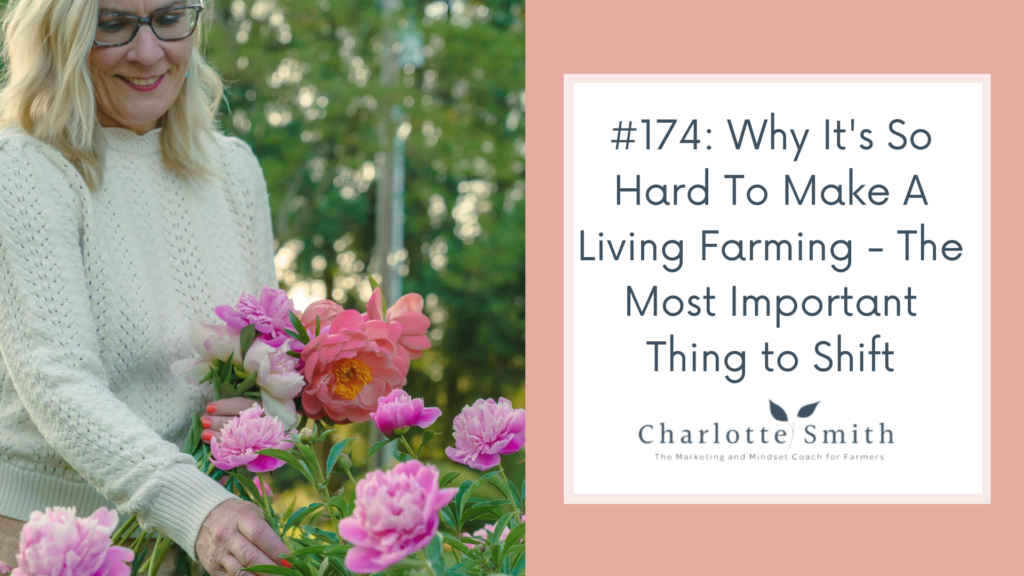 "I was looking back at one of my "Future Goals" lists from 2018 and "Start a Seed Company" was on there. It's amazing to see it come to fruition after all these years! I can see how all the work I've done (consciously and unconsciously) has been setting myself up for this.
And I can see how my current sales channels will funnel my customers into this new sales channel. By building a seed company, we will eventually be able to move away from local business (on farm sales) to creating a national business (online business).
We're taking the plunge and starting with what we have (time, resources, knowledge, etc), knowing we will change and grow in the future.
I'm also learning to set aside any other new ideas/projects for the time being so that I can focus solely on getting this up and running. While it's not going to be a huge money maker this season (we're calling it a "soft launch" because we don't have the capital and work space to go "all in" yet), it will plant the seeds for future growth and expansion."
~ Lori – 5x Your Farm Sales Member